Bathroom Cabinets and Vanities
Bathroom cabinets (vanities) are cabinets in a bathroom, most often used to store hygiene products, toiletries, and medications. They are usually placed under sinks or above toilets.
A bathroom vanity is a combination of a sink and the storage structure around it. In addition to storage, it also hides exposed plumbing to keep things looking more neat and tidy.
Many times our customers enjoy doing their own bathroom cabinets remodeling, so we offer beautiful cabinetry and vanities for design and installation. Whether we install them or not, we design and supply our customers with beautiful cabinetry and vanities. Quality built, functional, and beautiful, you'll have options you're going to fall in love with!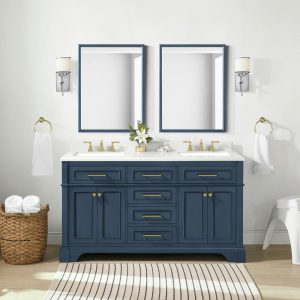 Laundry Cabinets and Shelving
Custom laundry cabinets and accessories change the way organize your laundry room forever. Thanks to shelves and cabinets, plus upgraded drawers, your laundry room will be beautiful and efficient. Transform your fold, dry, and sort routine with designated areas for each task as laundry cabinets. Keeping your household humming has never been easier.
Laundry rooms are often the last spaces to get a much-needed refresh in the home, but we believe it's essential to make yours both beautiful and functional. All you need is a little laundry room decor to spruce up the room and give it new life. Adding more functional space in the laundry room really could be as easy as putting up a shelf and adding a bar for hanging clothes. In the space above and behind the washer and dryer, think about hanging a shelf and under the shelf, add a clothing rod.